Sliema Strand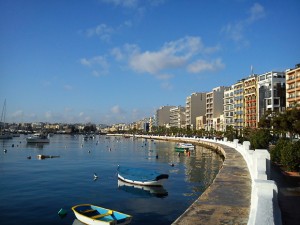 The Sliema Strand, 'Ix-Xatt tas-Sliema', or simply 'The Ferries'.  Discover one of Malta's hugely sought after and visited locations.  From this south-facing stretch of Maltese prime property, visitors can enjoy some of the most splendid views on the islands – scenes of fortified Valletta, the break water, The fortified Manoel island, as well as the open sea.
Sliema has long been associated with rocky beaches, restaurants, cafes, shopping centres and the like, and as such it also presents itself as a very good offering to those looking for a convenient living solution. For dwellers who are living and working in Sliema, a car can be seen as a superfluos accessory as everything is practically within walking distance.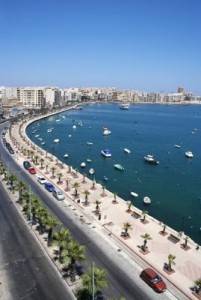 The Sliema Strand is a premium destination and property prices are relatively high when compared to other parts of Sliema, as well as the rest of Malta's cities, towns and villages. Demand for 2 bedroom seafront apartments at the Sliema Strand is very steep, yet the modern offerings are only within reach of those can allocate at least €1,300 per month for rent.
Sliema is also home to lots of hotels with the majority being scattered across the Strand. This is especially comfortable if property hunters are in need of a temporary accommodation to get a feel for the town, before actually making a commitment on a property. For those with limited space back at home, many hotels in the area are golden when friends, family (and in-laws) are over for a short visit.
Being a seaside town located in the northeast part of Malta, Sliema is a very popular spot for beach-goers to spend the day relaxing and soaking up the sun for a substantial part of the year. It is also possible to rent scuba diving equipment / snorkelling gear, and go for an underwater adventure along the reefs, or a sunken vessel located a few hundred metres from the shoreline. Dive clubs are numerous here, and offer introductory courses for beginners, or guided tours for more experienced divers.
If you're looking for a sea-side dinner al fresco, look no further than the Sliema Strand. With an expansive variety of cuisines available at the scores of seaside restaurants, all palates will be ecstatic at the combination of flavours available. World cuisine is at it's best here with menu offerings including Italian, French, Turkish, Lebanese, Japanese, American, and of course, traditional Maltese plates.
The Sliema Strand enjoys some of the most luxurious apartments in all of Malta. It follows that the price per square metre for top quality apartments at the Strand sits at the higher end of Malta property prices. A seafront 3 bedroom property on the Strand, facing the Marsamxett harbour and Valletta can easily fetch €2,600 per month.  Add a pool and a 50 square metre terrace, and you're looking north of €4,500 per month. This of course is not the norm, yet there are some pricier properties too. Some properties can fetch up to €10,000 per month. It's really a case of getting what you pay for though (in most cases at least), and one may expect the properties at the Sliema Strand to come with comforts like heated flooring, centralised temperature control, intelligent lighting, saunas, swimming pools, home cinemas, and other popular creature comforts.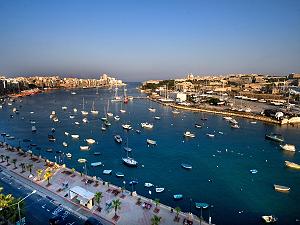 Some people reason that if they are going to live in Malta, they have to live in a seafront apartment, or at least enjoy sea views from their property. In Malta there are few better candidates apart from Sliema, that can truly, fully realise this request, and offer all the conveniences one may require. There are also a number of sub locations in Sliema itself like the Sliema Strand, which may be preferred by those looking for a fantastic view from their living-room. Further up from the Strand lies Tower road. Here, seafront apartments enjoy the open sea views as well as views of the rocky beaches that stretch across the Sliema shoreline. Moving along Tower road towards balluta area, one can appreciate views of Balluta bay, St. Julians, and Spinola bay. A truly magical sight, especially at night, with all the lights, reflections, glittering over the water even more so when being graced by a fresh summer breeze.
In Sliema, there are hundreds of apartments for rent, yet not all of these are top quality properties.  In addition, due to the peak season in summer, where lots of property gets tied up in the short term rentals, properties may not be available at the right price and at the time for long-let seekers.
Sliema offers potential inhabitants many potential accommodation options. Here one can find studio apartments, 1/2/3 bedroom apartments, penthouses, townhouses, with or without sea-views, and at prices ranging from €350 euros a month to over €10,000 in monthly rent. Having said that, the bulk of properties in Sliema sit in the €600 – €3000 range. Modern 1 bedroom apartments in Sliema will normally cost somewhere between €550 and €900 per month. 2 bedroom Sliema apartments for rent are normally between €700 and €1,200 and 3 bedroom properties in Sliema rent for around €950 – €1700. Add a sea-view and you're going to normally pay one and a half times as much.
Being a popular tourist destination, Sliema is a busy commercial centre with many services associated to this industry. Hotels, bars, restaurants, supermarkets, pharmacies, most of which offer top notch service are scattered all over the Sliema Strand area.  Bus routes are numerous and bus stops are very frequent and ferry services are available to Valletta. Boat cruises around the Maltese harbours and bays are also available. Sliema Strand residents get to enjoy all of these services together with popular beaches and beach clubs along the shoreline.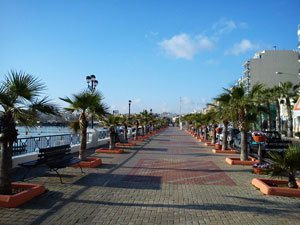 Gyms, spas, fitness centres as well as pampering havens are also numerous at the Sliema Strand, and around town in general. Many of the gyms and spas can be found at the many Sliema hotels yet there are also a number of independent offerings located at many side-streets in Sliema sub locations. The Fortina spa & resort is one of the most popular destinations for those who look after their physical fitness, health, and appearance. It is adjacent to the 'Tigne Point' development and sits right across Valletta and Manoel island.
For those who operate in the iGaming or finance industry, the Sliema Strand will make a perfect location to call home. With many available options for Sliema office space, many of the leading Malta-based igaming operators and finance companies in Malta are located in Sliema or within walking distance at neighbouring towns of Gzira and St. Julians. This creates a privileged living solution, where one can be within a few minutes walk from one's work place, the pub or the beach.  It really doesn't get much better than this.